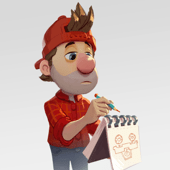 Antti
Concept Artist – Art
Antti works at our Helsinki office. He is a wiz at designing cool characters, cars, props and environments, and as a concept artist he is the mastermind behind visual development of some of our games.
Who are you?
My name is Antti and I work as a concept artist at Fingersoft. Besides making games I've been playing them ever since we got our first 386 PC in the early nineties.
What have you studied and where?
I studied in a small art school and graduated with a BA in fine arts. I focused on oil painting and drawing but we also had classes on sculpture, photography, art history, things like that. We didn't have much digital art training except for a couple of courses on Photoshop basics, but once I got my first Wacom tablet I was able to practice in the evenings. After getting my BA I spent one year studying classical portrait painting. We had teachers come in from Saint Petersburg Academy of Arts which was pretty great. I learned a lot during that year. 
How did you end up at Fingersoft?
I think everybody in the Finnish game scene knows Fingersoft and I like the Hill Climb Racing games myself, too. I had also heard good things about the company culture. When the opportunity came to join the company as a concept artist I decided to try it out and haven't regretted it.
What have you done before this position?
I've been in the games industry for almost 12 years now. While working with mobile games the evolution in game design, art and the capability of devices has been remarkable. My first job way back was at a company called Digital Chocolate. The first games I worked on were for java phones and some had to be ported to devices with 128x96 pixel screens so technical restrictions were pretty heavy back then. More recently I've had the chance to work on multiple genres of games, from sandbox games to card battler RPGs and arcade shooters.   
Tell us about your job at Fingersoft!
As a concept artist I get to be involved with visual design of characters, cars, props, environment, you name it. In our current game project we are still in the pre-production phase so we also do a lot of visual development, planning the overall look of the game etc.
What's the best thing about working at Fingersoft?
I like the diversity of tasks, we have pretty small teams so everyone gets to wear multiple hats. Also the fact that everyone is motivated to make great games is very good. 
Finally, what's your best memory of Hill Climb Racing?
I think it has to be the first time playing the first Hill Climb Racing game years ago and the first time doing a neckflip and hearing that dry crunching sound effect. It caught me off guard. It was amazing.