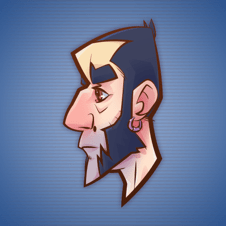 Iñigo
Lead Artist – Art
Iñigo is the Lead Artist in charge of creating 2D and 3D visuals for one of our new IP's that is in development. According to Iñigo, the best part about working at Fingersoft are the people you get to work and have a laugh with.
Who are you?
I am Iñigo, Lead Artist on an unannounced game project at Fingersoft. A game player since the late 80's, who always wanted to make them. Moving to Finland in 2012 gave me the chance to start in a different area and mobile games were booming, so I stepped into the industry and here I am still.
What have you studied and where?
I studied graphic design and illustration in Bilbao and Vitoria_Gasteis respectively, just when the internet was starting and computers were an amazing "new" tool in both areas.
How did you end up at Fingersoft?
I had done some subcontracting work for Fingersoft while I was working at Meizi Games. After some unsuccessful attempts on changing working places, on the brink of moving to Helsinki, they gave me the chance of an interview at Fingersoft and soon after I was in.
What have you done before this position?
Almost everything related to graphic design, from web design to giving shape to texts for book publishing. I have worked for newspapers creating their ads, and before moving to Finland I was the art director for a Photo Studio. Since I moved to Oulu, I have worked at several game companies.
Tell us about your job at Fingersoft!
I started in the Hill Climb Racing 2 team, soon to be moved to prototypes where my skill set was put to better use. Did that for some years till one of the protos became promising enough to go forward with. Since then I've been in charge of creating the whole visuals of the IP, both 2D and 3D, from characters to the UI.
What's the best thing about working at Fingersoft?
The people. Everyone is professional, friendly and adult. You can trust that the work will be done perfectly while having a laugh with your colleagues.
What's your best memory of Hill Climb Racing?
I had played it for some time before becoming a part of the game team, but once I was in, I had the chance to put some homages to my homeland (Basque Country) into the game. It is priceless to know that a part of you is being enjoyed by so many.