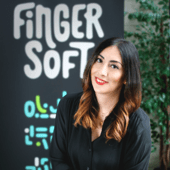 Carolina
Senior Marketing Artist – Art
Carolina is a Senior Marketing Artist and living proof that the third time's the charm. Originally from Colombia, moving to the peaceful surroundings of Oulu made Caro's passion for illustration come back to life. 
Who are you?
I'm Carolina, originally from Bogotá, Colombia, where I graduated as a Graphic Designer. Since birth, a love for art and creativity has been a crucial part of my life. I am the daughter of a sculptor, and it was my father's influence that inspired me to express myself through art. His passion for his work and the kind of person he was really helped to shape who I am today. 
How did you end up at Fingersoft?
2 years ago a life-long dream to illustrate children's books came true. Along that same journey, I got interested in the gaming industry. I participated in a game development course and right after had the wonderful opportunity of collaborating in some mobile games as a game artist. I knew clearly that my ultimate goal would be to work at Fingersoft, I was and still am a big fan of Hill Climb Racing 2 and Benji Bananas. I sent my application for an artist position 3 times so I guess I'm living proof that the third time's the charm! 
What have you done before this position?
Over the years I gained some experience by working in advertising agencies and spent most of my career working for a photo studio. At the same time, I was also working remotely as a freelance designer for a company in the US. It was a stressful, hectic routine back then, especially when living in a big, crowded city like Bogotá. That's why it was a huge shift in my life when I moved to Oulu in 2014. It was thanks to this peaceful surrounding that my passion for illustration came back to life. 
Tell us about your job at Fingersoft!
Currently, I'm a Senior Marketing Artist at Fingersoft. One of the many tasks I have is to create clear and eye-catching designs to promote our games through social media and other marketing channels. I work in a small group of amazingly talented people, which I feel really lucky to be a part of. I've had the best mentors and not a single day goes by when I don't learn something new. 
What's the best thing about working at Fingersoft?
Working at Fingersoft has been an amazing experience, probably the best I've had in my career. The working environment is extraordinary and the people here truly make this workplace feel like home.