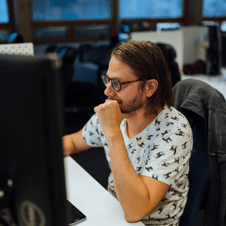 Santtu
Game Developer – Programming
Santtu was the 20th employee at Fingersoft when he joined the company. He works in the Hill Climb Racing 2 team as a developer. Programming is his way of being creative.

Who are you?
I'm Santtu and I work as a Game Developer at Fingersoft.
What have you studied and where? 
I studied computer engineering at Oulu Polytechnic.
How did you end up at Fingersoft?
At that time I wasn't actively looking for a new position. I had already worked for 10 years as a SW engineer at Nokia and I was taking a hiatus travelling around Europe. My brother, who was at the time studying at the Oulu Game Lab, tipped me to check out this one unique job ad by Fingersoft. To me, it did sound like a fresh start after all those corporate years, so I applied. Because I was still there travelling, and at that time I was in Italy, it was a remote interview. I attended it from my friend's home by Lake Garda. After a couple of interviews, I was hired and I became the 20th employee here at Fingersoft.
What have you done before this position?
I have always liked creating stuff. Legos were my ultimate favourite thing when I was a kid. Some years later I found the same creativity from programming. This programming hobby helped me to get my first job at Nokia while I was still studying in my final year at Oulu Polytechnic. 
At Nokia I had a couple of different positions. First I was a developer for the Nokia 3G base stations software and later I was mostly involved in the mobile phone test automation and CI/CD tools development. 
I started here at Fingersoft under the title "test automation engineer", but very soon I saw that what the company really needed was a proper QA. So I became the QA lead. After two  years I started to feel distant from what I really liked to do: programming and creating something new. So I talked with my managers and we agreed to find a new QA lead, and I was able to switch my position back to programming.
Tell us more about your job at Fingersoft!
I work as an all around SW engineer in the Hill Climb Racing 2 team. I have developed a CI/CD pipeline for the project and there are some maintenance responsibilities coming from that. Also I help my fellow colleagues with their tool and integration issues. But mostly I do work as a part of a scrum team, creating new features and fixing bugs. Now that Hill Climb Racing 2 has evolved into a more competitive multiplayer game, we have also put more effort into security to protect the game against hackers. This has been a hot topic for me this past year. 
Overall it's not that different to work in gaming than what it is to work at a software company of this size in general. The processes and working methods are kinda universal. What makes it interesting is that we have so many different areas of expertise here under the same roof. We have talented artists, designers, legal, finance, HR and management all in this same office. And I think this keeps the atmosphere more creative when people with different values and backgrounds share their thoughts. The jokeful semi-official principle behind recruitment has been a "zero asshole policy". And I think this has really worked in action.
What's the best thing about working at Fingersoft?
Hill Climb Racing 2 is an interesting project in many ways. Even though the game is fun and casual, there is much depth behind the simple gameplay and those cartoonish graphics. It's exciting that there are so many dedicated players all around the world. On the technical side, this means that we try to keep the gaming experience flawless no matter where in the world the player is from and what kinda phone he/she has.
What I like about the company is that every employee can share their ideas and constructive feedback. The ideas can consider anything like game prototypes, recreational activities or the company culture itself. Also the company has put plenty of effort into the well-being of employees. We have Wednesday remote yoga sessions, a company gym, and the tools needed for daily work are top-notch quality.
Finally, what's your best memory of Hill Climb Racing?
The Hill Climb Racing 2 launch back in late 2016. It was a huge push to get the game done and released for Christmas. There was so much excitement when we saw how much the existing Hill Climb Racing fans liked this sequel and how many new players were joining the game. And I can't lie, it was also stressful to keep all the systems running while the number of players was much higher than our estimates.