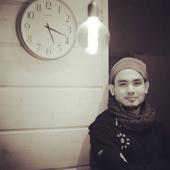 Prataksha
Software/Data Engineer – Programming
Prataksha is a Software/Data Engineer and a big Kubernetes fanboy who loves playing with new technologies. 
Who are you?
My name is Prataksha, aka Prata. I am 29 and my nationality is Nepalese.
What and where did you study?
I have been living in Oulu since I came to Finland in the fall of 2011. Actually, I came to Finland to study IT (Bachelor of Engineering), which took 4 years.
How did you end up at Fingersoft?
It is quite a long story to be honest but in a nutshell, I had finished my studies and I was already working by then. Meanwhile, my friend Daniel was starting a subsidiary under Fingersoft. He was looking for a tech-lead and asked me to join the team, and I happily obliged. That's how I got into the Fingersoft family, but we were technically still a separate firm. Later on, after 3-4 years, we closed the subsidiary and fortunately, most of us became Fingersoft employees.
What have you done before this position?
At the subsidiary, I was the CTO. We were quite a small team of 6-7 employees so I was basically doing everything tech-related from web/servers to complex big data.
Tell us more about your job at Fingersoft!
Currently, my title is Software/Data Engineer. I mostly work in the LiveOps team and also share some responsibilities with the UA team. I have been mostly busy with the big data warehouse platform. In short, it is a typical job orchestrator. I mostly work with my fellow LiveOps team members, depending on the nature of the projects.
I usually have a diverse collection of tasks, e.g. from development work with Nodejs and GO to complex big data(SQL) processing. I am a big Kubernetes fanboy so I do all things Kubernetes-related in the team from deployment, maintenance and development. We have two big projects running on Kubernetes: the data warehouse and the metagame engine.
I usually start my work around 9 am depending on the previous night's alcohol intake XD. There are different kinds of workdays. Some days are smooth going and short; some days are pretty rough and slow because of a typo I had 2 months ago XD.
Our company has amazing teams of professionals, so if there is any issue or hurdles we always find a way to solve it.
I think one of my best points is that I am very proactive. I love playing with new technologies. Sometimes I might come too strong on pushing new tech solutions in the team XD. Technically speaking, I have been doing NodeJS, GO, Mongo, Bigquery, SQL, containers, Kubernetes, Client js lib like vuejs and some python, so I can help with any web/data related tasks and that is what I am doing at the moment.
What's the best thing about working at Fingersoft?
It is simply awesome. Our company culture is just amazing, there's a great sense of humor. Everybody enjoys working here. We work hard and also party harder XD.
What's your best memory of Hill Climb Racing?
I still remember back in Nepal my friends talking about Hill Climb Racing almost a decade ago. Back then I had absolutely no idea of Fingersoft. Now sometimes when I talk to my friends I reminisce about those days. The first time when I told my friends that I am working in the company that made the game, they had quite an expression on their faces XD
Any thoughts about living in Oulu?
Unlike Helsinki, Oulu is a typical Finnish city. Very cold weather but warm people. I think a bike or a car will help you a lot. This city is also a very good student city; you can find lots of local and international students especially on the weekends in the center. The university is also well known for wireless technology around the world. I feel like Oulu is comparably very peaceful, affordable, caring and a very techie city compared to the southern parts of Finland.