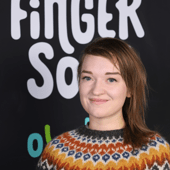 Jennimari
Data Engineer – Data & Analytics
Jennimari came to Fingersoft through a trainee program. She now handles data-related requests for the game teams and other teams and enjoys the versatility of her job.
Who are you?
My name is Jennimari, and I work as a Data Engineer at Fingersoft.
What have you studied and where?
I studied physics at the University of Oulu.
How did you end up at Fingersoft?
I wanted to change my field from academic research into an industry position, due to the uncertainty and inflexibility of the academic field. Since I didn't have a formal education on data science or data engineering, but had been working with solar and satellite data for more than five years, I enrolled in a recruitment training program and did a 5-month internship at Fingersoft as a data trainee. After the trainee period ended, I was offered a permanent position as a Data Engineer!
What have you done before this position?
I did my PhD at the Space Climate research unit at the University of Oulu. My thesis was about the long-term evolution of the solar coronal magnetic field, and its influence on the near-Earth heliospheric magnetic field.
Tell us about your job at Fingersoft!
I work with data by building and upkeeping data pipelines for the new game projects, and handle data-related requests mainly from the game teams, but also from for example the Liveops or Ads teams. I get to interact with many people during my work week and have quite a varying set of tasks, so the job never gets too repetitive!
What's the best thing about working at Fingersoft?
The colleagues, i.e. the Fingersoft fam <3
What's your best memory of Hill Climb Racing?
When the original Hill Climb Racing reached 1.5B installs recently. Still waiting for the celebration cake!